Hauheset is a Hunter class Earth dragon in the Sapphire egg lineage, their availability is Mythic.
Hauheset
Dragon Information
Class
Hunter
Element
Earth
Lineage
Sapphire
Availability
Mythic
Skills
Borrowed Time, Desiccating Sandstorm, Crumble to Dust, Time Shift
Breeding
Breedable at level 16



In-Game Description
Edit
Harbinger of Desolation: Hauheset has seen countless kingdoms swallowed by the sands.
Appearance
Edit
It is a body model and re-colored version of Apophet and Mehaten.
Stats + Abilities
Edit
Borrowed Time (unlocked at level 1)
Desiccating Sandstorm (unlocked at level 2)
Crumble to Dust (unlocked at level 3)
Time Shift (unlocked at level 4)
Breeding
Edit
Breedable at level 16.
Breeding Parents: Scorchil + Iteru (195,000 Egg Tokens)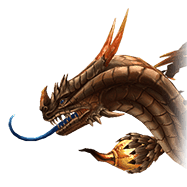 Ad blocker interference detected!
Wikia is a free-to-use site that makes money from advertising. We have a modified experience for viewers using ad blockers

Wikia is not accessible if you've made further modifications. Remove the custom ad blocker rule(s) and the page will load as expected.